We partner with organizations across WNC to distribute diapering supplies to families in need.
Community Partners Program: Providing ongoing, monthly diaper distribution to agencies serving known clients and regularly providing additional social services to support, stabilize and help lift families out of poverty.
Crisis Partners Program: Providing diaper distribution to agencies serving walk-in clients facing acute crises, such as baby pantries, food pantries, and food markets.
Mobile Diaper Partners Program: Providing diaper distribution to agencies with mobile units or pop-up markets to expand into rural communities especially where transportation issues are a barrier for families.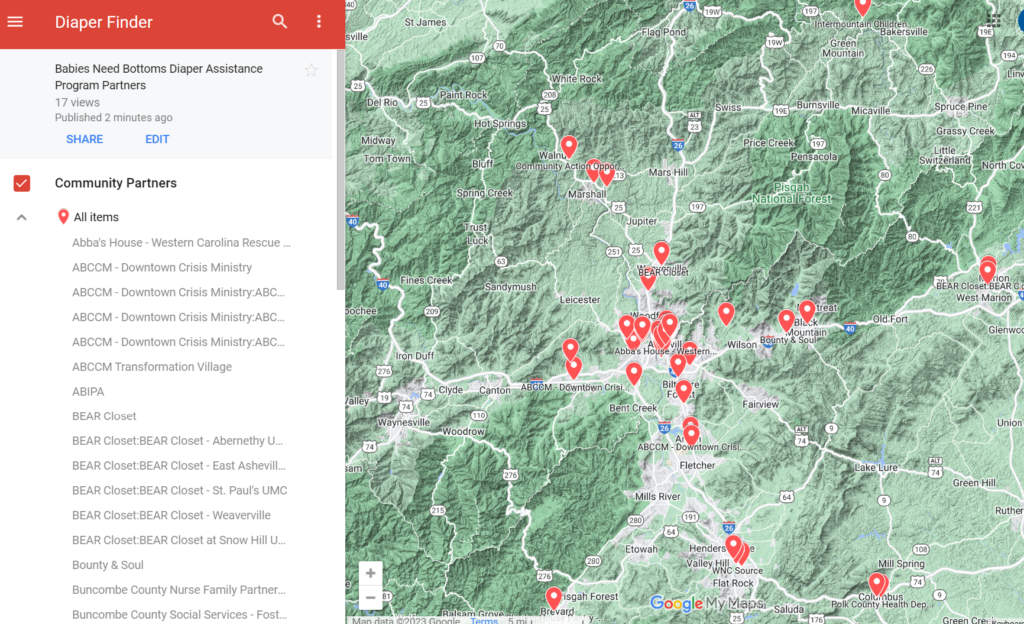 Distribution Partners
Babies Need Bottoms distributes diapers through a partnership model.  See below for a listing of some of our partners.
If you are seeking diapers for yourself, visit www.nc211.org, or call 1-888-892-1162 to be connected to a social service agency near you that can help.
Or, visit our Emergency Assistance page to find more information.
Our community distribution partners are required to sign a partnership agreement to help insure that diapers and supplies make it to those who need them most, in an appropriate manner. Diapers and supplies are provided to our partners at no charge and must be distributed, at no charge, to client families with diaper need. They must never be sold by our partner organizations or their employees/volunteers. They must be distributed without discrimination against race, color, creed, national origin, religion, age, gender, sexual orientation, political affiliation, or disability.
If any partner agency is found to be in knowing violation of our agreement, our relationship will be immediately discontinued and they will no longer benefit from our organization.
Distribution partner organizations must be a 501(c)(3) nonprofit in good standing, religious organization or local government agency.