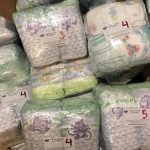 *** As of April 1, 2019, our Emergency Assistance Program has been updated to reduce the costs and difficulty with delivering or shipping supplies to local families. Emergency requests are now distributed through our community partners that accept walk-in clients. **
The Emergency Assistance Program provides an emergency diaper supply to parents and caregivers who are unable to access clean, dry diapers. Diaper supplies are provided free to any families in the Western North Carolina counties we serve, regardless of race, color, creed, age, marital status, sex, gender, religion, sexual orientation, gender identity, gender expression, national origin, veteran status, or disability.
Review our partner agencies and see if you are currently receiving services from any of those agencies. We are usually able to distribute them to partner agency employees and social workers within 1-2 business days of their request.
If you are already working with a case worker, please ask them to contact us and we can arrange to get diapers to your family. Please understand that we are all volunteers and are not always able to transport diapers to partner agencies as fast as we would like.
Not receiving services from any of our partner agencies and live in a WNC county* we serve? Visit one of the following partners on their scheduled public distribution days:
* We currently serve Buncombe, Haywood, Henderson, Madison & Transylvania counties.