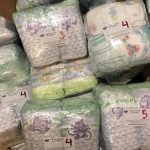 The Emergency Diaper Assistance Program provides diapers to social service agencies serving families in crisis. We are not able to provide diapers directly to individuals.
If you are seeking diapers for yourself, see the options below to be connected to one of our partners,  visit www.nc211.org, or call 1-888-892-1162 to be connected to a social service agency near you that can help with diapers and much more.
If you are already receiving services from one of our partner agencies, contact them to discuss emergency diaper assistance. 
We supply many of our partners with diapers in all sizes to have what you need available when you need it most.  Visit their website or social media to learn more about all they have to offer, and call one of the following agencies to discuss emergency diaper assistance: