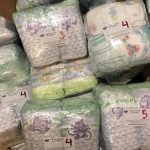 The Emergency Assistance Program provides diapers to social service agencies serving families in crisis. We are not able to provide diapers directly to individuals.
If you are seeking diapers for yourself, visit www.nc211.org, or call 1-888-892-1162 to be connected to a social service agency near you that can help.
If you are already receiving services from one of our partner agencies, contact them to discuss emergency diaper assistance. 
Call one of the following agencies to discuss emergency diaper assistance
Temporarily Offering Monthly Diaper Drive Thru for Henderson County residents
(Pre-COVID Open Hours: 1st & 3rd Wednesdays 10am-1pm @ 1418 Patton Ave, Asheville)
(Pre-COVID Open Hours: Tuesdays 1pm-5pm @ 84 Snow Hill Church Rd, Candler)