DIAPER NEED
Nationally, 1 in 3 families struggle to afford enough diapers to keep their children clean, dry and healthy.
OUR MISSION
To improve the lives of babies, toddlers, and parents in Western North Carolina through diaper distribution, community awareness and partnerships.
OUR VISION
Our vision is that diaper need is commonly recognized as a public health crisis, and adequate resources are allotted to help caregivers obtain a sufficient supply of diapers, wipes and barrier cream to keep all children clean, dry and healthy.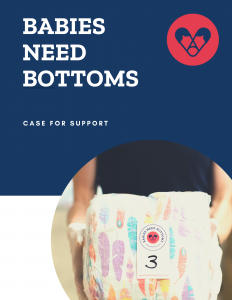 OUR WORK
Collect and distribute diapers through community partnerships.

Collect financial and in-kind donations to obtain diapers and diaper supplies at discounted rates.

Bring awareness to the Greater Asheville community about the local diaper need.

Advocate for changes in local, state and federal policies to improve diaper access.
SUPPLIES
We are accepting diaper donations at local community partner drop-off stations, or you can donate online to help sponsor the diapering needs of local families
AWARENESS
We are raising awareness of local diaper needs through local media, social media, community campaigns and local diaper drives
ADVOCACY
We are advocating for change in government policies that prevent the use of financial assistance for diapering needs and levying of sales tax on diapers, a basic human need