EVERY DIAPER COUNTS
As a nonprofit diaper bank, we are able to purchase two to three times the number of diapers as you can in a retail store or online. We can purchase them for as low as 10 cents per diaper! Also, in NC and other states, diapers are taxable for you and we are tax-exempt. Donating money makes the biggest impact on the families we serve.
Diaper Donor Form
Babies Need Bottoms Inc is a 501(c)(3) nonprofit corporation in the State of North Carolina and your donations are tax-deductible, as allowable by law.
Average cost for 1 month of diapers for 1 child
Federal assistance designated for diaper needs
Buncombe County children living in poor or low-income homes
The PayPal Giving Fund allows 100% of your contribution to go to Babies Need Bottoms. PayPal waives all processing fees and you don't need a PayPal account to give.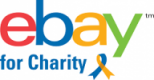 Sell for Charity on eBay and select any percentage of your proceeds to be donated to Babies Need Bottoms. Your donation is tax-deductible.