Join Us by Making a Gift Today
With your financial support we can purchase diapers at wholesale rates, to stretch each donated dollar further and serve more families.
Diaper Donor Form
Babies Need Bottoms Inc is a 501(c)(3) nonprofit corporation in the State of North Carolina and your donations are tax-deductible, as allowable by law.
Average cost for 1 month of diapers for 1 child
Federal assistance designated for diaper needs
Bonfire T-Shirt Fundraiser
Purchase a Babies Need Bottoms T-Shirt and Help Keep Bottoms Covered in Western North Carolina.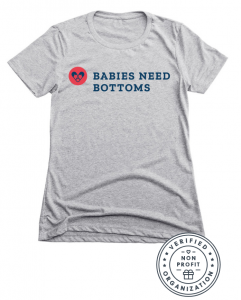 Buy a T-Shirt
Amazon Smile Charity
Support babies with every purchase by selecting Babies Need Bottoms as your Amazon Smile charity.
Amazon Smile
Thank you for your support!