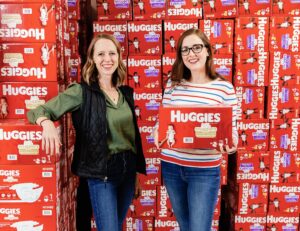 Press Release: 9.14.2023
NATIONAL DIAPER NEED AWARENESS WEEK CALLS ATTENTION TO DIAPER INSECURITY IN WNC
New data revealed that nearly 1 in 2 families struggle to afford enough diapers to keep babies clean, dry and healthy. Local diaper bank Babies Need Bottoms is working to make a difference for families across WNC by providing diaper assistance programs.
As part of National Diaper Need Awareness Week, September 18-24, 2023, Babies Need Bottoms is collecting donations with the goal of distributing 50,000 diapers to local families this month.
In WNC, diaper need has continued to rise over the past few years. As the cost of goods and costs of living have risen, more and more families are in need of help meeting basic needs.
The numbers are staggering.  Before the pandemic, Babies Need Bottoms distributed an average of 34,000 diapers annually in Asheville and the 5 Counties surrounding the city.  In 2023, an average of 41,000 diapers go out every month reaching up to 16 Counties in WNC. In early 2023, Babies Need Bottoms hit the milestone of distributing 1 million diapers in Western North Carolina.
"Many people are shocked to learn public assistance programs like SNAP (food stamps) and WIC cannot be used to purchase diapers" said Alicia Heacock, Co-Executive Director for Babies Need Bottoms.
Diaper banks, like Babies Need Bottoms, are a grassroots response to help local families meet this basic need for our youngest community members. And there are easy ways to help end diaper need – making a donation – whether it's making a financial gift, or dropping off a pack of diapers or wipes, or volunteering time are all ways of making a difference.
"Babies need diapers to be clean, dry and healthy. And parents need diapers so they can send their children to childcare and work. Diapers are a necessity for families. Donating diapers is a powerful way to show up for our neighbors and community. " shared Meagan Lyon Leimena, Co-Executive Director for Babies Need Bottoms.
About Babies Need Bottoms
Babies Need Bottoms Inc., a 501(c)3 nonprofit diaper bank located in Asheville, NC with the mission to improve the lives of babies, toddlers, and parents in Western North Carolina. A member of the Baby2Baby National Network and the National Diaper Bank Network, Babies Need Bottoms distributes diapers, wipes, and other baby health and hygiene essentials to families in Western North Carolina. Families who are seeking diaper assistance can visit www.nc211.org or call 1-888-892-1162 to be connected to a social service agency.  To learn more or to donate, visit babiesneedbottoms.org.
###